American Heritage Girls is a Christ-centered non-profit focused on the mission of building women of integrity through service to God, family, community, and country. The AHG Program serves girls ages 5 to 18 and equips adult volunteers to help guide girl leadership. Learn more through our media sources below. Follow #AHGintheNews on social media.
Patti Garibay Featured on Focus on the Family July 25, 2022 – Show Title:  A Safe Place for Girls to Grow Up as Women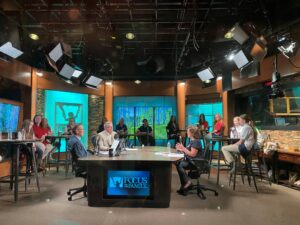 Listen to A Safe Place for Girls to Grow Up as Women using this link.
Watch A Safe Place for Girls to Grow Up as Women using this link.
AHG Featured on CBN, The 700 Club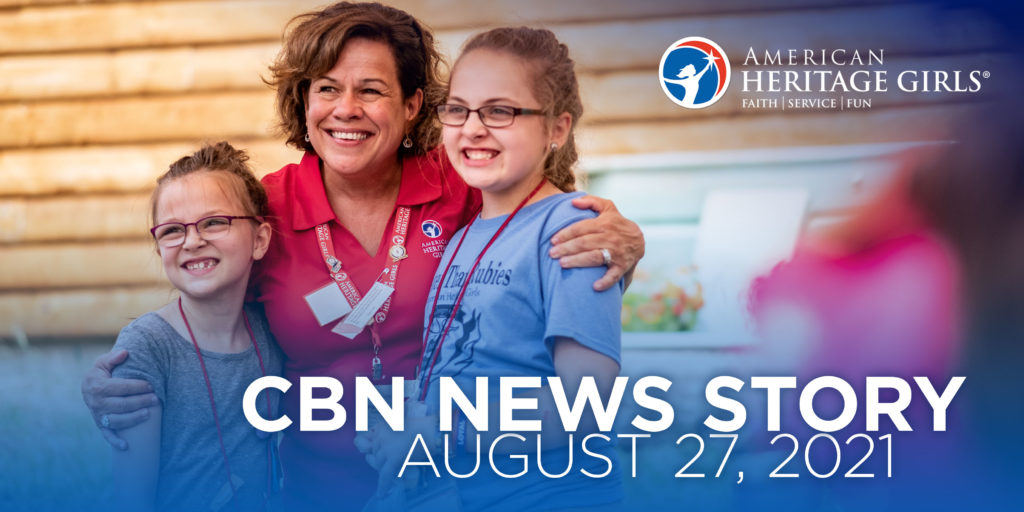 American Heritage Girls Founder and Executive Director, Patti Garibay, was featured along with AHG girl members at the Greater Than Rubies summer camp in Amelia, Ohio by CBN on August 27th, 2021. The story about the rise in membership and how the program's Christ-centered focus is appealing for families today also ran on The 700 Club on the same date. You can access the story via link below:
Unapologetically Christian: Alternatives to Boy Scouts, Girl Scouts See Big Membership Increases _ CBN News, August 2021
Why Curse the Darkness When You Can Light A Candle? by Patti Garibay

A story of trust and obedience to inspire those who desire to make a Kingdom impact, yet struggle with the fear of inadequacy. Published August 2020.
Download Why Curse The Darkness Sample Chapter
Access Why Curse the Darkness Press Kit
For more information visit: whycursethedarkness.com
News, Radio & Show Appearances
The Road Forward with Dr. Tim Clinton/Real America's Voice-July 23, 2022
The Christian Post – Cultivating a spirit of thankfulness _Voices
Pure Flix Insider With Billy Hollowell- featuring Patti Garibay
Fox News Radio, The Todd Starnes Show
Baptist Press, American Heritage Girls Marks 25th Anniversary- September 18, 2020
The Christian Post, 3 Steps to Help Teen Girls Battling Anxiety and Depression May 2020
'The Future is in His Hands'_ Christ-Centered Alternative to Girl Scouts Turns 25 _ CBN News January 2020
Dr. James Dobson's Family Talk with Dr. Tim Clinton, August 2019
Ministry in the Marketplace with Richard Hamlet
EWTN Global Catholic Network's Morning Glory Show
American Heritage Girls: An Answer to the Moral Relativism in the Girl Scouts
American Family News' One News Now
Georgene Rice – KPDQ Portland, Oregon
The Legacy Institute – Carrie Abbott Show
St. Gabriel Catholic Radio – Columbus, Ohio
Dr. James Dobson's Family Talk
Podcasts
Colson Center, Strong Women Podcast (Episode 22) with Sarah Stonestreet/Erin Kunkle & Patti Garibay
Sarah Hamaker, Hope for the Next Generation (Episode 18)
God's Great Outdoors Podcast with Gerry Caillouet & Patti Garibay
Blog Posts
Moms in Prayer Unshaken Ohio
Christian Leadership Alliance Featured Blog Posts
Recent News Releases
2022
AHG challenges members to renew relationship with Christ this Christmas season (Dec 19)
AHG encourages girls to give to others for an 'eternal impact' (Dec 12)
AHG encourages service acts to break the holiday blues (Dec 5)
AHG prepares girls for adulthood through unique badges that teach valuable life skills (Nov 28)
AHG thanks God for nearly three decades of faith, service, and fun (Nov 21)
AHG's emphasis on Christ ensures solid foundation for lifelong faith (Nov 14)
AHG honors American veterans through biblical programming and focus on patriotism (Nov 7)
AHG celebrates what makes femininity unique through Bible-centric programming (Oct 31)
G.R.I.T. with Grace; AHG equips girls with strong leadership skills through robust curriculum (Oct 24)
AHG stands strong in biblical foundations to raise godly girls of integrity (Oct 17)
AHG stands firmly against 'bullying of any sort' (Oct 10)
AHG challenges members to be a 'catalyst' in their schools by participating in 'Bring Your Bible to School Day' (Oct 3)
Visit the AHG PRESSROOM to see all News Releases
For all press/media inquiries, please contact the American Heritage Girls Director of Marketing & Communications, Michelle Beckham-Corbin by phone at 513-771-2025 or email.
Twitter Newsfeed
AHG Pressroom
Information for members of the media and press, including press kit, press releases, news articles about AHG, how to request an interview or speaking engagement with AHG Founder Patti Garibay, and more.
Publications
Read about AHG in Heritage Headlines, AHG's quarterly magazine, with the most current stories of faith, service, and fun! Also includes a link to AHG's most current Annual Ministry Report.
Endorsements
Read what ministry leaders and others are saying about American Heritage Girls.
Social Media
Stay Connected with American Heritage Girls on Social Media