American Heritage Girls was founded around a kitchen table in 1995 by a group of parents living in a northern suburb of Cincinnati, Ohio. Their frustration with the way their beloved scouting organization was handling matters of faith and culture led to a vision of a fun-filled, Christ-centered, service-oriented, outdoor emphasized educational opportunity for girls. This new Christian organization would contribute to the betterment of each girl's community while strengthening her walk with Christ. American Heritage Girls was born from this vision, along with a healthy helping of tears and prayer. The very first AHG Troop was made up of a wonderful group of 4th and 5th-grade girls.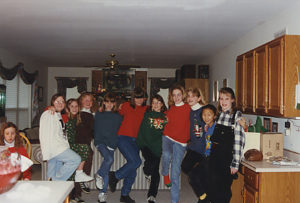 Later, Troops began appearing across the country as the news of a Christ-centered, faith-based program spread. AHG leadership went from a handful of parents around a table volunteering their time and rotating the monthly phone bill to make ends meet to a large office space with a staff of over 50 today.
Small seeds of hope grew into mighty oaks of tradition. AHG experienced a substantial membership increase in 2010 when they became the first all-girl program to partner with the Boy Scouts of America, a partnership that later ended when BSA changed their membership standards. Parents clamored for a BSA alternative, and AHG used their resources to help connect and mobilize these parents to form a faith-based scouting-type program for boys known as Trail Life USA.
In the ensuing years, American Heritage Girls has continued to grow with the help and support of a nationwide network of parents who share the goal of building women of integrity through service to God, family, community and country.
By the grace of God, tens of thousands have been reached and served by the AHG Ministry over the years. Today, the need for a Christian organization with a strong program that helps girls develop their gifts and skills and grow in the knowledge of who they are and whose they are in Christ is stronger than ever.
Whether you're the parent of a brand-new kindergartner or a teenage girl navigating the ever-changing world of high school, American Heritage Girls is excited by the opportunity to come alongside parents like you to raise Godly girls. Our world desperately requires a generation of women who know who they are and whose they are in Christ. The AHG Program is at the forefront of this urgent need, teaching girls the incredible God-given worth that lies within them.