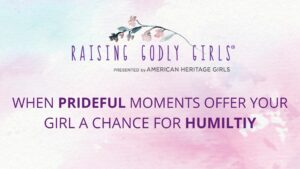 If your girl is a natural leader and tends to take the reins before she has the appropriate training to lead well, then she might find herself on the receiving end of some loving feedback from a mentor, teacher, or you. 
She might hear, "I love the way God has gifted you to lead, but I would like to see your tone reflect Christ in your words." These growth-centered conversations can grate against your girl's pride. While this might be a time for her to eat a slice of humble pie, what if she truly takes the feedback to heart? 
Feedback offers a unique opportunity to maturing girls—the chance to submit to another's authority in humility. The opportunity to learn from one ahead of her. The opportunity to become more like Christ! 
Listen to the Raising Godly Girls Minute with Patti Garibay: