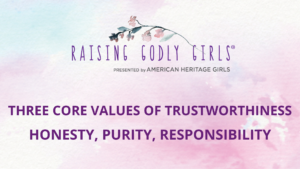 Are you familiar with the phrase, "I've got eyes in the back of my head?" It's a good one to use to keep your daughter from sneaking extra minutes on her device before bed or playing basketball with your coffee table décor. It's a way to let her know you're watching … even if she's unaware.
Telling your girl you have 360 vision can work, but what about when you aren't around? Is she trustworthy when no one's looking?
Luke says, "For there is nothing … concealed that will not be known or brought out into the open."
Reinforce trustworthiness by teaching her character-development words like honesty, purity, and responsibility. Ask her what these words mean to her and consistently use them as you guide her through her daily actions.
Listen to the Raising Godly Girls Minute with Patti Garibay: