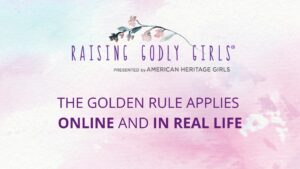 Have you ever read the comments girls leave on one another's social media? It can be downright appalling to witness the cyber bullying our girls go through. If you've caught your girl in the act of cyberbullying, it's time for an intervention. 
Have your girl practice reading her texts aloud or looking into a mirror before replying so she can experience what it's like to be on the receiving end of her message. It can be easy for us all to forget that a real person is behind a text or social media post—but a Godly girl knows we are all called to live in community with one another, digital or I.R.L (that's in-real-life)! 
After all, the Golden Rule of the Bible still applies to our interactions today!  
Listen to the Raising Godly Girls Minute with Patti Garibay: