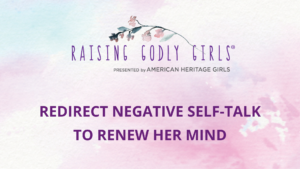 Do you catch your daughter saying negative things about herself? Maybe she uses phrases like, "I'll never get that right," or "I'm always messing up!" These words are negative self-talk, and they point to issues like low self-worth.
The words that we speak and think about ourselves are powerful and are like seeds that plant deeply in our hearts. Proverbs says, "The soothing tongue is a tree of life, but a perverse tongue crushes the spirit."
For your girl to adopt positive self-talk, it starts first with renewing her mind. What does God say and think about her? It also starts with how you, as her parent, model positive self-talk. Consistently redirect her negative self-talk to God's words … he says she is worthy and loved.
Listen to the Raising Godly Girls Minute with Patti Garibay: