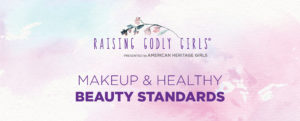 Gone are the days of soda-flavored lip balm and fruity fragrances being the only tools in a teenager's beauty arsenal. In fact, even young girls today seem to speak another language when it comes to beauty—contour, highlight, blend… all vocabulary they're learning from beauty tutorial videos online.
If your daughter has expressed a desire to start wearing makeup (or maybe she's even started helping herself to mom's beauty products), it's important to make time for an honest conversation about beauty standards. Remind her of the words in Proverbs: "Charm is deceptive, and beauty is fleeting; but a woman who fears the LORD is to be praised"
Makeup can be a fun and empowering tool for women. But it's important to teach her that true beauty isn't achieved with products she buys at the mall, rather, beauty is a gift given to her by our loving Heavenly Father.
Listen to the Raising Godly Girls Minute with Patti Garibay: