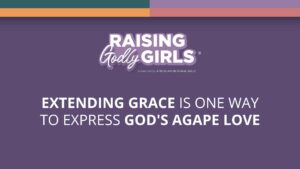 You've gotten your girl to open up to you. Great! But wait? What she said isn't sitting right with you. Perhaps her actions aren't ideal, even problematic. Or maybe she holds an opinion that isn't Biblically-sound. Before you panic, pause. 
God's greatest commandment is love. Extending grace is one way of expressing God's love, agape love. Hear this: you must approach your child with grace, and the issue with truth. Steering your daughter in the right direction won't happen through forcing truth onto her. Instead, try shepherding her back with grace and love. 
1 Peter tells us "As each has received a gift, use it to serve one another, as good stewards of God's varied grace" Grace is a gift meant to be shared. 
1 Peter 4:10, ESV
Listen to the Raising Godly Girls Minute with Patti Garibay: