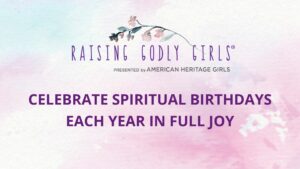 Different Christian faith traditions celebrate baptism in a multitude of ways, but all of them mark the start of a new life in Christ. The day we wash away sin and mark our souls for Christ is a special day! If your girl has been baptized, does she celebrate this day each year? 
Of course, we live every day in the joy of the redeeming love Christ has given us. But why not honor the commitment of baptism each and every year in a celebratory way? Celebrate the special day by reflecting on images from the baptism, scheduling time with God parents if she has them, or even cutting into a cake!  
Honoring your girl's baptism as a date worth celebrating helps her remember that the day she was marked by the Holy Spirit, forever. 
Listen to the Raising Godly Girls Minute with Patti Garibay: