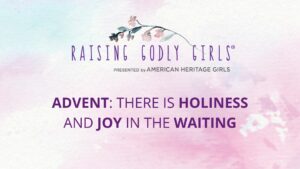 Our lives ebb and flow through many seasons during the calendar year. The Advent season, those five weeks leading up to Christmas Day, is anchored in waiting…something your girl likely understands on a personal level! 
Whether waiting to see a beloved friend or the puppy dad promised she could get, your girl understands the deep heart longing toward something hoped for. Since Thanksgiving, she has groaned under the anticipation for Christmas Day to come. But it's not here just yet. There is holiness and joy in the waiting. 
In the days leading up to Christmas, slow your family's pace. Read from the Bible about the Promised One, Jesus, who would come. And don't open those gifts just yet—to soak up the quiet lessons God has for your girl in the waiting of Advent. 
Listen to the Raising Godly Girls Minute with Patti Garibay: