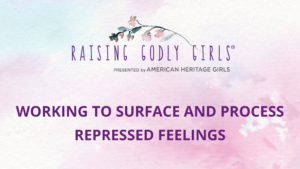 Resiliency is a popular word in parenting circles. In fact, even at American Heritage Girls, we talk a lot about raising resilient girls to become strong women. We are all about girls mustering up their God-given strength and facing difficulty with grit and moxie! The saying is true—kids are resilient. 
But in this quest for resiliency, it's possible for girls to unintentionally learn how to repress their feelings. Emotional intelligence is one of the greatest lessons you can teach your girl in the quest toward resiliency.  
Recognizing and knowing how her feelings affect her is a powerful tool! Just as ignoring pain doesn't actually make one stronger, ignoring feelings doesn't make her a more resilient. Resiliency is overcoming difficulty, but not at the cost of ignoring or downplaying it! 
Listen to the Raising Godly Girls Minute with Patti Garibay: