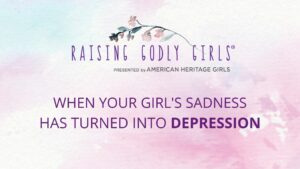 Have you noticed your daughter is in a bit of a funk lately? In a season of difficulty, it's important to recognize when your daughter is sad and when she might be depressed. 
According to Mental Health America, "Girls 14-18 years of age have consistently higher rates of depression than boys in this age group." 
Next time she's sad, try this three-pronged approach. First, ask your daughter to write a gratitude list. Second, encourage her to exercise. And thirdly, have her find a way for her to be of service to someone else. God has invited us to "have life, and have it to the full." If you think your daughter is experiencing depression, rather than simple sadness, it's time to seek professional help. Mental health isn't something to be ignored. 
Listen to the Raising Godly Girls Minute with Patti Garibay: