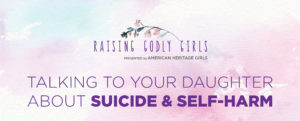 Youth suicide and self-harm are at an all-time high. Another painful reality? No one is safe from suicidal thoughts or harmful behaviors. This news is heart-breaking and paralyzing for us to hear.
As Christians, we know we are held in the arms of a loving and merciful Father, but we also must realize the schemes of the enemy. Some believe that talking about suicide with your child will give her thoughts about self-harm. This is a falsity planted in our minds by the Father of Lies. In fact, open communication is the best way to intervene and prevent suicidal thoughts or actions.
It's never easy to start this conversation with your daughter. A friend recently shared how she starts the conversation about tough topics with her tween girl. She writes a letter, full of affirmation and love, and asks her daughter to pen a reply. Painful conversations flourish into open ones because on paper, we are given the freedom to say the deepest truths from our hearts. These letters open the door to face-to-face conversation that might have otherwise felt awkward or unwelcomed.
Find the way your daughter best communicates, and start the conversation there.
Listen to the Raising Godly Girls Minute with Patti Garibay: