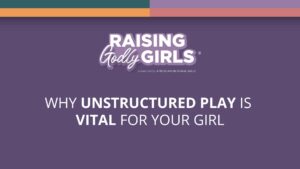 The art of play seems to be lost in today's world. So many kids, especially teens, fill their free time with screen time. They get sucked up in the black hole of social media algorithm suggestions and "next episode starting in 3-2-1" and before you know it, it's way past their time limit. 
We all know scaling back screen time is a necessary task, but remember this: saying "yes" to more screen time is saying "no" to time for unstructured play. God created each of us with a unique sense of wonder, curiosity, and creativity—we are able express all of these traits through free play! 
Invoke a sense of playfulness back into your home by getting outdoors. When we step into the unstructured world of the great outdoors, we free our brains to be playful! 
Listen to the Raising Godly Girls Minute with Patti Garibay: