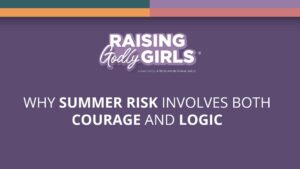 The fun of summer is a chance to try new things—and this is awesome! But when some choices go awry, they come with long-term consequences. From hiking off-trail to leaving the life jacket on the shoreline, the summer season brings the heat of risk and unwise decisions.
The Lord has promised in Psalm 32:8 to instruct, guide, and oversee your girl's path—but God's safe-keeping is not guaranteed, especially when logic and common sense are abandoned.
Empower your girl to do adventurous things safely this summer! When in a group, give her the confidence to leverage protective equipment wisely knowing that everyone is doing the same. This will keep her healthy body able for the next big adventure.
Psalm 32:8, ESV
Listen to the Raising Godly Girls Minute with Patti Garibay: