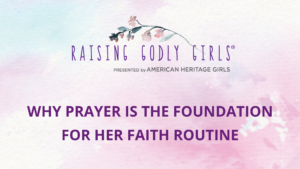 Winter is a great time for reflection and renewed focus on our relationship with God. Shorter, darker days reveal that the need for increased light both in our world and in our prayer time is key. Work to establish prayer routines with your girl. Teach her to take in God's Word, reflect on it, and enter into dialogue with you. 
Standing in the Word can include memory verses, reading scripture passages, intercessory prayer, and even listening to Christian music that can move hands and feet in rhythm with the Word. 
The Book of Romans states: "So faith comes from hearing; and hearing the word of Christ."  
However your girl incorporates reflection into her prayer time, it is sure to be a time of blessing and favor for her.  
Romans 10:17, ESV 
Listen to the Raising Godly Girls Minute with Patti Garibay: