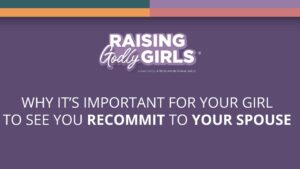 "You're still the one." This line has woven itself into romantic song lyrics more than a few times in the last 40 years. Typically it is sung from one spouse's perspective to another. What is the benefit of your girl hearing and watching you recommit your heart to your spouse? 
Faithfulness falls seventh in the Fruit of the Spirit—an attribute God models perfectly for us and we strive for toward one another. God also says that He will be our God and we will be His people, a statement of commitment—COVENANT. 
Whether spoken in the kitchen while preparing dinner or in a vow renewal ceremony, model for your girl what faithfulness in marriage looks like—from your heart, your words, and your actions. 
Jeremiah 31:33 
Listen to the Raising Godly Girls Minute with Patti Garibay: