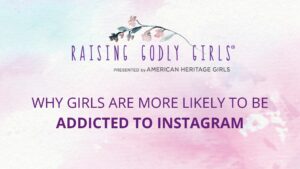 Functional MRIs conducted while teen girls used Instagram showed that they have an extremely heightened dopamine response—equal to a boy's propensity toward video games. We are seeing Instagram associated with certain addictive behaviors in teen girls leading to anxiety, depression, and a chasm of loneliness. 
If your daughter desires to be connected to friends online, consider which platforms she will use and how you will monitor your girl's activity on each. Be sure to set limits on her screentime and encourage her to spend time outside. 
As you diligently guide your girl to navigate her online activity with spiritual maturity, keep her rooted in God's Word. Remind her of texts like Romans 8:5, calling us to be mindful of where we set our attention. 
Listen to the Raising Godly Girls Minute with Patti Garibay: