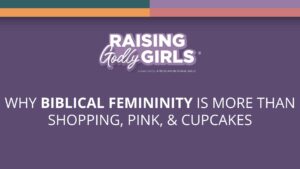 The world tells us that a feminine woman loves "girly" things—fashion, cupcakes, shopping… But beyond the glitter lies the spirit of femininity at the inmost core of every girl. Every woman was created to possess a different kind of femininity—one defined by God. 
Biblical femininity is not a personality trait or a list of shiny hobbies. It is the core essence of every woman. God created women as relational, nurturing, and vulnerable beings. Just as man, woman was created to be in relationship with Christ, letting the Holy Spirit guide and direct her path. 
If you find your girl gravitates more toward an afternoon of fishing than one in a nail salon, remember this: God has given her the spirit of femininity, she doesn't need to conform to the world to prove it! 
Listen to the Raising Godly Girls Minute with Patti Garibay: