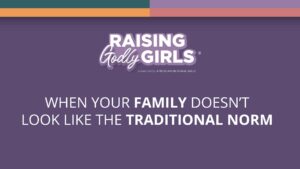 Families don't always fit the nostalgic norms these days. God loves the family—deeply. And He cares about His Image being preserved and shown through our families. If you are connected to a single-parent, blended, or traditional family—how can you bring God's Kingdom to earth through your family? 
Teach your kids to cling to God's design as holy AND show compassion and grace in situations where a family doesn't fit the conventional norm. If your girl has a friend in a single-parent family, offer to love them by inviting them to your table for respite and community. Or babysit so they can have a time of rest! 
Through Jesus, God has reconciled us into His family forevermore. So, we can offer the same open, sacrificial love to other families in many creative ways! 
Matthew 6:10, NIV 
Listen to the Raising Godly Girls Minute with Patti Garibay: