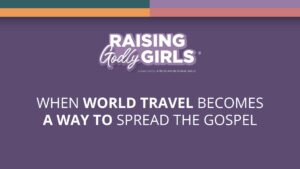 God created a vast world full of beauty and variety! One great way to appreciate this wonderful world is to explore it. Summer offers the open door to travel for many families—school's out, warmer weather, it just makes sense! 
In Genesis 11, the people stayed self-focused and DIDN'T spread out, so God made many languages, thereby launching them into the various cultures we see today. When we explore people and cultures different from our own, we receive two gifts—a chance to spread the gospel message and an opportunity to appreciate the beautiful work of art that is humanity. 
Make a list of places to visit, virtually or by travel. No matter the budget, exploring other cultures is accessible to your girl! Be sure to praise God along the way for all that He has made. 
Genesis 11:1-9 
Listen to the Raising Godly Girls Minute with Patti Garibay: