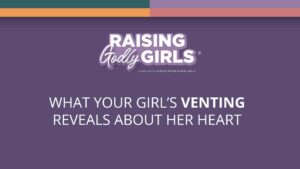 Ever had a bad day? We all have! From time to time, your girl has one too. When she comes to you to blow off the pressurized frustrations of the day, is her venting Godly? Yes, God cares about how she vents. 
James chapter 3 gives stern warning about the power of words—like a microscope peering into the heart, the words reveal what lies underneath the surface of the soul. This doesn't mean your girl can't vent, even in King David's prayers, he was raw and honest with God. But if her words are void of God's grace over even those she is annoyed by, gently warn your girl of the direction she's heading.  
The journey of taming her words is one more layer of raising a Godly girl into a Godly woman. 
James 3:1-12, NIV 
Listen to the Raising Godly Girls Minute with Patti Garibay: