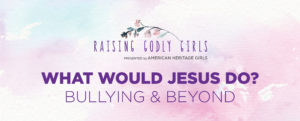 Almost one out of every four students (22% to be exact) report being bullied during the school year according to 2015 findings by the National Center for Educational Statistics. With recorded bullying rates at an all-time high, parents are tasked with the immense need to raise children that are confident in who they are while being kind to others.
Being a Christian is difficult because it often calls us to live a life that is counter-cultural. But being a young Christian in today's post-Christian culture…that comes with a vital need to trust in God. The moral compass by which your daughter leads her life is undoubtedly causing her to stand out as different. If her faith becomes a target of bullies, equip her with the Word.
In Matthew's gospel, Jesus tells his disciples plainly: "Blessed are you when people insult you, persecute you and falsely say all kinds of evil against you because of me. Rejoice and be glad, because great is your reward in heaven, for in the same way they persecuted the prophets who were before you."
Remember this: your daughter is not the first nor will she be the last to be bullied for her beliefs. Jesus himself was bullied. The Father saw His son be bullied. We are called to pray for those who persecute us, those whom we deem to be our enemies. There is power in prayer and forgiveness. The Lord gives us the tools and strength to live a godly life. Follow the model of Biblical conflict resolution found in Matthew's gospel and pray for healing and confidence as you walk alongside your daughter in putting an end to the bullying.
Listen to the Raising Godly Girls Minute with Patti Garibay: