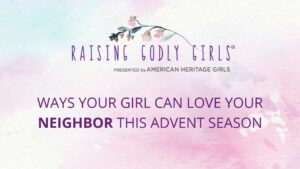 In Mark 12:31, Jesus tells us to "Love your neighbor as yourself". As you prepare delicious treats, mail holiday greetings, and cross off your shopping list, consider how you can serve those living right next door.  
When we serve, we teach our girls the importance of service. It is through our actions that the value of volunteering is learned.  
Ask your girl to write a list of 25 ways she can serve a neighbor this year and create a paper chain. Starting December 1, complete an act of service each day—like shoveling a driveway, delivering cookies and cocoa, or wrapping gifts. Together we can celebrate the birth of our Savior knowing the next generation is answering the call to be His hands and feet. 
Listen to the Raising Godly Girls Minute with Patti Garibay: