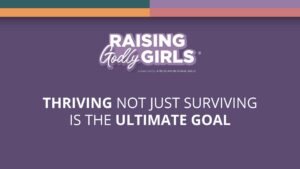 How many times have you heard it said "kids are resilient!" over the last year? Perhaps you've even said it yourself. I know I have! And it's true—we want our girls to be resilient, which by definition means they are "able to withstand or recover quickly from difficult conditions." But we also want our girls to thrive, not just survive.  
2020 for many felt like a year of survival mode. Zero limits on screen time, junk food, or bedtimes—parents worldwide did what it took to get through. And we did! Commit now to a lifetime of thriving. 
Jesus reminds us that in times where life feels difficult, a strong foundation of faith helps us thrive. Read John 16:16 with your girl and make a bucket list of ways to thrive this year! 
Listen to the Raising Godly Girls Minute with Patti Garibay: