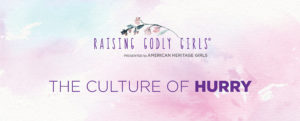 Have you ever said something like "Hurry up and tie your shoes… oh forget it, just let me do it," Me too. We have places to be and things to do, after all! Who has time to wait?
How often we find ourselves hurrying our kids throughout the day. While instilling a sense of hustle can seem necessary and motivating, you may find that your girl is easily overwhelmed by the rush. Here's why: kids aren't meant to hurry—that's an adult trait.
In consistently rushing our girls to the next thing, we're robbing them of the time spent in the moment. We're breeding unnecessary hurry into the next generation of women, setting them up to feel burnt out and overwhelmed in adulthood.
The fix? Slow down. Make time for life. Simplify your schedule. As God commands us, remember to make time for rest—and slow shoe tie-ers!
Listen to the Raising Godly Girls Minute with Patti Garibay: