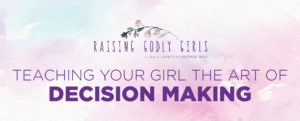 When's the last time you let your daughter take the lead? And no, choosing the breakfast cereal for the week doesn't count! I'm talking really making decisions and experiencing their consequences—from start to finish.
Oftentimes it can be a parent's gut instinct to swoop in and save their girl from failure. But might there be some good in a bad outcome? I get it, letting your daughter fail—whether a school assignment or a sports team try-out—can feel like you're somehow letting her down. But here's the thing: did she fail because she didn't study? Did she get cut from the team because she didn't practice? Sometimes failure isn't a catastrophe so much as it is a consequence of previous poor decisions.
Rather than hovering or intervening after the fact, consider how you can condition your daughter to become a better decision-maker. The best way to go about practicing better decision making? Pray about it. Taking time to discern can be her first step in making the right choice.
Listen to the Raising Godly Girls Minute with Patti Garibay: