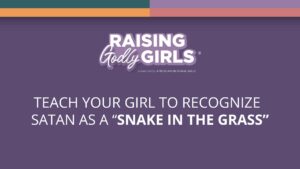 Have you ever walked through a pasture or wheat field? The tall grass provides protection for little critters like rabbits and field mice, but it also houses predators like snakes. You do NOT want to stumble upon one of those! But what if we could see it before we step? 
The Christian walk is a lot like this for your girl. There will be things she will stumble upon innocently that may be a fright. Mobile devices and practically every entertainment platform act as vehicles for Satan's lies straight to your girl's eyes, ears, mind, and heart.  
Talk with her honestly about Satan's lies and how they're disguised in the world. This way, not if but WHEN she encounters them, she can recognize and skillfully maneuver to stay focused on God's Kingdom.
Listen to the Raising Godly Girls Minute with Patti Garibay: