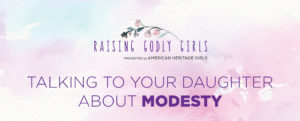 Modesty. For some parents, it's an ongoing battle that occurs every morning before school. For others, it's a beast that only rears its ugly head during special event dress shopping. So how do we really instill values of modesty in our girls?
The reality is, the virtue of modesty is a difficult subject to broach with girls because they aren't willing to throw away their freedom of personal style! While fashion trends come and go, the value of self-respect is a constant. Teach your daughter to wear what makes her feel the way God sees her—truly beautiful and valuable.
Create a list of agreed-upon guidelines together that can put any clothing item to the test. That means no store is off-limits, but there is an expectation of modesty behind every purchase! Things like length, neckline, sheerness, and fit are great places to start.
Listen to the Raising Godly Girls Minute with Patti Garibay: