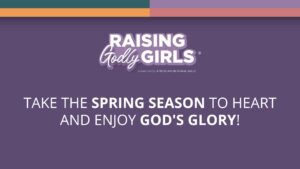 Breathe deeply and take in all of what the spring season has to offer! Blooms dot the landscape with brilliant technicolor. The symphony of springtime chirps would put the New York Philharmonic Symphony Orchestra to shame! In this season, everything is alive and God's glory is on full display. 
Psalm 87:7 says our springs of life flow from the Lord, and when God blesses—He does so in ABUNDANCE! 
Take the season to heart—when the Lord brings your girl into a Spiritual Spring, she can't learn His character fast enough, can't stop reading His Word, and His Joy overflows in her life. In these seasons, rejoice with her—out loud, just as God's creation does! The Psalms are a great way to get those praises raised to our wonderful God, the author and sustainer of life! 
Listen to the Raising Godly Girls Minute with Patti Garibay: