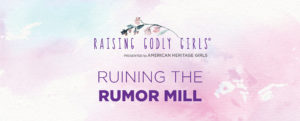 Has your daughter ever rushed over to share a rumor with you, that she heard swirling about a friend? Or even a rumor she heard about herself?
We know that gossip is toxic and can make your girl question the truth about herself and others. It creates a breeding ground for shame and doubt by tearing down her self-esteem. In First Thessalonians, Paul says, "… encourage each other and build each other up, just as you are already doing."
If you happen to hear your girl gossiping, redirect her to what God says about his girls, written in His word. teach her to counter every rumor with the beautiful truth of his love and grace for all of His daughters.
Remind her: spreading rumors causes pain, but spreading "Good News" about God and others, is healing to the soul.
Listen to the Raising Godly Girls Minute with Patti Garibay: