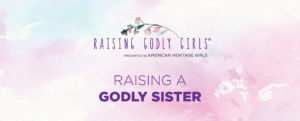 Is your girl the oldest child, the youngest child, or right in the middle? Maybe she's an only child. No matter her birth order, being a sister to her siblings as well as a sister in Christ to those around her, can be challenging. She may sometimes feel overshadowed, misunderstood, or weary from her sisterly responsibilities.
In our self-centered world, it's tempting to bypass the work it takes to grow relationships that matter most. Teach your daughter the joys and the blessings that come with the God-given role of being a sister. It's an opportunity for her to practice the endurance it takes to serve and love others who are different from her. In Colossians, Paul tells us to "Be devoted to one another in love. Honor one another above yourselves."
Guide your girl through the beautiful journey of becoming a true and Godly sister.
Listen to the Raising Godly Girls Minute with Patti Garibay: