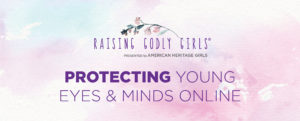 As parents, we're tasked with providing our girls with a safe, loving, and fostering environment in which to grow. Thanks to the internet, today's world is full of more unforeseen threats to personal safety than ever before. So how can we protect young eyes and minds from what's out there?  
Every family's take on internet safety is different. For some, social media is an absolute no-go. For others, monitored screen time is the solution. No matter your house rules, it all comes down to one simple question—do you trust the internet to care for your daughter the same way you do?
In order to provide some digital peace of mind, consider protective measures like installing internet safety filters on all of your devices. If you live in a tech-free home, be sure to talk to your daughter about online guidelines for when she's with friends. Setting digital boundaries is an important way we can protect our girls online. 
Listen to the Raising Godly Girls Minute with Patti Garibay: