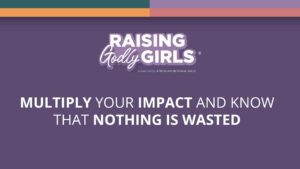 Have you heard that people rarely remember what you said, but they remember how it made them feel? Oftentimes, leading your girl can seem similar. She may forget her homework or to sort her laundry, but she remembers those times you leveraged a chance to connect with her heart.  
How could you multiply your impact on her life by taking the mundane and making it special? Tea with cinnamon and muffins on a Tuesday afternoon, taking a sunset hike hand-in-hand, recording your voices singing her favorite lullaby together—these are small things that make a big impact! 
1 Corinthians 15:58 agrees with you in this journey—nothing is wasted when you intentionally leverage your time with her for a Kingdom impact!  
Listen to the Raising Godly Girls Minute with Patti Garibay: