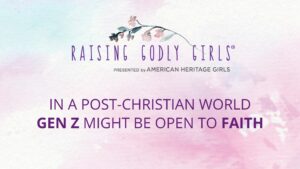 For young people without a strong faith, it can be nearly impossible to look around at the current state of our world and see a good, good Father at the helm. Disbelief is spreading at a shocking rate. Barna research shows Generation Z embraces atheism as a belief at a rate double that of the general American population.  
It's easy to see that statistic and panic, but there's hope. That very same study shows that while a vast number of Generation Z don't currently believe in God, they are open to the idea of faith. With a post-Christian population like Generation Z comes great potential and opportunity for discipleship.  
As the Barna researchers point out, young people are likely to resonate with Christian ideals like diversity, empathy, and service, opening the door to belief. 
Listen to the Raising Godly Girls Minute with Patti Garibay: