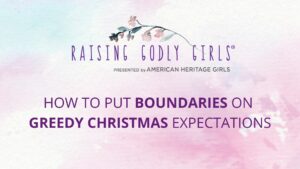 'Tis the season to be jolly…and maybe, a little greedy? If your girl is anything like other kids, the endless supply of toy catalogues and gift guides might have her Christmas list looking more like a store inventory list and less like a realistic wish list.  
This Christmas season, consider adopting a spirit of modesty when it comes to family gift-giving. Some families find great success with the four-gift rule—a want, a need, a clothing item, and a book to read.  
Teaching your girl the art of gift giving can be a great exercise in generosity, budgeting, and setting realistic expectations. With the saved money, you may even be able to donate to the needy in your area! 2 Corinthians says "God loves a cheerful giver" and that gift-giving should come from the heart. 
2 Corinthians 9:7
Listen to the Raising Godly Girls Minute with Patti Garibay: