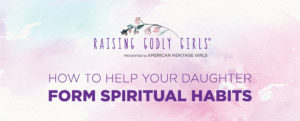 Is your daughter a creature of habit? For some, strict daily rituals provide a sense of predictability and comfort. We all fall into routines—so it's important to analyze how these habits might be helping or hurting us. While some routines can be healthy and productive, others might be taking us away from more important parts of life. Consider how you are guiding your daughter to incorporate healthy, faith-filled habits into her everyday life.
On average, it takes more than two months before a new behavior becomes a habit. Over the course of about 66 days, our bodies start to recognize the pattern—then it becomes automatic.
Establishing healthy spiritual habits in the lives of our girls is an important step in raising them to be women of integrity. When girls start to form faith-filled habits early in life, like daily prayer or scripture journaling, they are more likely to keep Christ at the center of their lives as they grow.
Listen to the Raising Godly Girls Minute with Patti Garibay: