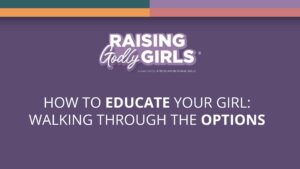 In today's cultural climate, the question of how Christians should educate children has garnered time in the spotlight. It's an important decision! Out of all the choices Christians have in educating their most valuable gift, their children—from public school to private Christian education to homeschooling—how do you weigh out priorities in your girl's education? 
No matter which school lane you choose, as a believer it's important to consider multiple layers like: cultivating a lifelong integrated faith, access to developmental resources according to her needs, a safe cultural environment in her school—just to name a few. It's also okay to begin her education in one lane and change to another as her needs change! 
Above all, the same God who guides you also walks with your girl no matter where and how she's educated.  
Proverbs 22:6, Psalm 78:6
Listen to the Raising Godly Girls Minute with Patti Garibay: