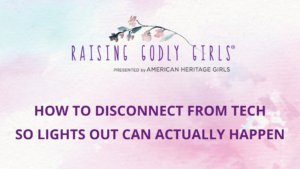 Do you remember when the term "lights out" literally meant all the lights were switched off at bedtime, whether you were sleepy or not? For today's youth, it's not that simple. Even when the house lights are off, the light from your daughter's tablet may still be glowing.
Research shows that light from tech-devices confuses the brain and body to think it's time to be awake when it's time to sleep. Your girl's nighttime device use could cause her sleeplessness and isn't good for her overall health.
God designed us for physical rest. He demonstrated this himself in Genesis when he rested on the seventh day of creation! Help your girl to get the sleep she needs by enforcing that at bedtime, it's indeed all lights out!
Listen to the Raising Godly Girls Minute with Patti Garibay: