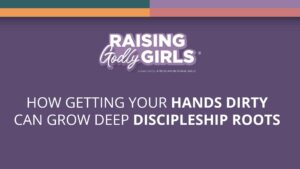 Looking for a way to grow your girl's roots down deep into Christ this summer? The beauty of that seventh verse in Colossians 2 is that God's creation can serve as the perfect tool to lead your girl to His majesty. Have you thought of getting your hands dirty with her—literally getting your hands in the dirt together?  
From vegetable gardening to flower gardening, there are so many layers of the Lord's design to be taught. While the lessons in late spring and summer yield quick results—that juicy tomato eaten in the sunshine or the vibrant rose clipped at the perfect time—the late fall and winter seasons bring lessons of trust in the Lord's work during hardship. The possibilities are endless! 
So grab some seed packets and get started! 
Colossians 2:7 
Listen to the Raising Godly Girls Minute with Patti Garibay: