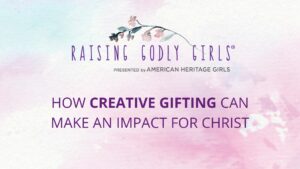 In this season of gift-giving, some families are reviewing cultural traditions surrounding the holidays and opting instead for outside-the-box ways to show their love. Toys are nice. A new sweater is lovely. But can a traditional gift have the same impact of sharing Christ's love? 
Groups like Samaritan's Purse allow gifters to purchase a goat for a family in need through their Livestock Project. Human trafficking recovery ministries like Rapha House offer goods made by survivors. The funds benefit changing lives across the globe, giving young women hope and a future. 
If your girl lights up at the possibility of creatively approaching this year's holiday gift season, seek out ways together to boost her desire to make an impact with her budget.
Listen to the Raising Godly Girls Minute with Patti Garibay: