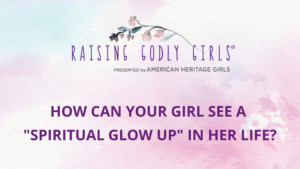 There's a trend online where girls share pictures from their childhood, typically sporting goofy outfits or unfortunate hairstyles, and then pictures from today where they celebrate their beautiful "transformation" in growing up, calling it a "Glow Up."  
At some point, we all experience what it feels like to "glow up"–recognizing progress and change for the better can make you feel extra confident.  
Body positivity and a focus on inner, God-given beauty can have a tremendous impact on your girl's self-esteem, but she should be able to recognize a glow-up in more than just her outward beauty. Has she had a 'glow-up' in her prayer life? In her relationship with siblings? In her self-esteem? Celebrate change for good and encourage her positive progress right along with her! 
Listen to the Raising Godly Girls Minute with Patti Garibay: