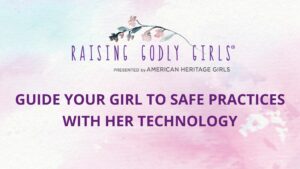 Privacy is a tricky subject for today's parents. Our culture stands for the right to personal privacy, going so far as implementing new laws in order to protect consumers.  
But our kids aren't customers at risk for identity theft—they're our kids. They're ours to protect, yes, but not by being left in the dark in the name of personal privacy. 
As her parent, you know that her bedroom is hers because you assigned it to her, but at the end of the day, it's a room in your house. Have you considered how her phone or other devices are exactly the same in that way? Get passcodes, set protective filters, monitor screen time. It's up to you as her parent to control her safe use of technology on the devices you choose to give her. 
Listen to the Raising Godly Girls Minute with Patti Garibay: