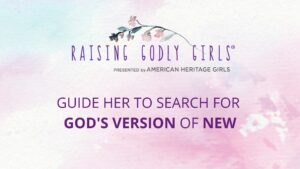 When unexpected changes hit your girl, what is her typical reaction? Does she respond in chaotic frenzy if a friend cancels their study session last minute? Does she retort in anger when rain cancels her hike? Your girl is growing in resilience each time she encounters unmet expectations.  
Is your girl able to perceive that the LORD is the one directing her path? And that He might be working in ways that are completely NEW, so if she holds to her own understanding, she might miss "His Kingdom come…on earth as it is in heaven." 
Through Jesus, God was creating something new, the redemptive work of His son was happening, and it looked very different than what anyone had seen before. Guide your girl to see God's version of NEW. It will make all the difference. 
Revelation 21:5 
Matthew 6:10 
Listen to the Raising Godly Girls Minute with Patti Garibay: