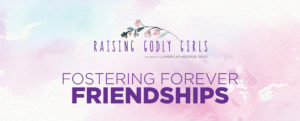 Fostering Forever Friendships
In the age of instant gratification Instagram filters, disappearing Snapchat commentary, and "traditional" social media platforms taking on an archaic reputation (we're looking at you, Facebook) girls today aren't learning the worth of meaningful interaction. Worse yet, they see their presence and popularity online as a direct indicator of how loved they are. So, girls learn to put up a façade online—building a "personal brand" for the world to see. Imagine if girls could discover that by being their true and unique selves, they will feel more accepted and loved than a "branded" Instagram profile could provide. American Heritage Girls focuses on the meaningful and necessary role of true female friendship into the lives of girls across the country.
Recognizing the Need for Female Relationships
"I'm not good at making friends with other women."
How often have you heard these words or spoken these words in your own life? How many times has your daughter heard these words? Consider this: if our girls don't see that we value the interaction and connection with one another, how can we to emphasize the importance of true friendships?
For some women, the reason they can't make friends with other women today might be because they were never taught how to make and keep friends as a young girl. American Heritage Girls is emphasizing the role of true friendship in a generation of girls who are entrenched in a disingenuous culture.
Girls today live in a world of competition, especially within the female sex. Of course awards, college acceptances, and jobs all come with some various degree of healthy competition. But the rivalry for likes and comments on social media is trickling over into how girls compete for the attention of others in all areas of their life. The pressure to look, dress, and act in an internet-inspired way is tearing girls away from being and feeling comfortable as their true selves. Today more than ever, there is a need to guide girls toward interacting in genuine, purposeful, and Godly friendships.
Listen to the Raising Godly Girls Minute with Patti Garibay: