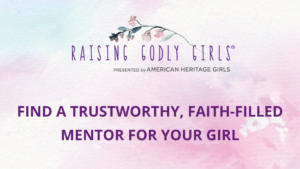 Does your daughter have a mentor? Looking up to someone who has forged the path in front of you can be an incredibly powerful motivator.
It's important to note that while you can parent your girl, it's nearly impossible to be a true mentor to her. Teens expectedly have trouble looking up to people their parents' age. After all, when you were a kid, did you look up to your mom and dad and think "Wow, I want my life to be just like theirs!" Probably not.
Look within your church community to find a trustworthy and faith-filled millennial willing to mentor your girl. Through regular, fun interaction with an elder closer to her age, she will start to emulate the same Christian behaviors and grow into the woman God made her to be.
Listen to the Raising Godly Girls Minute with Patti Garibay: