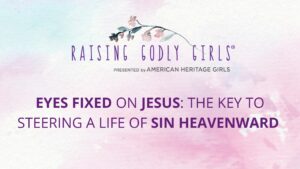 Is your girl struggling? Maybe she's dealing with a recurring sin or reeling with stress over a big decision. Hear this: even Godly girls, like your daughter, will forget to keep their eyes fixed on Jesus in the midst of difficulty. 
Look at Peter in Matthew 14. In the midst of a storm, he keeps his eyes fixed on Jesus and is able to walk on water—until he doesn't. When Peter looks around and recognizes the real mess he's in, surrounded by wind and stormy seas, he sinks. But Jesus didn't stand by and shame him for falling. Instead, Jesus helps Peter up and reminds him to keep his eyes, and his faith, fixed on Him. 
Jesus is there for your daughter in her struggle, she must only look up. 
Matthew 14:28-32 
Listen to the Raising Godly Girls Minute with Patti Garibay: