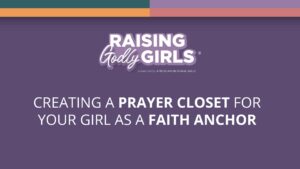 Do you have a messy closet that's ready for a glow-up? Consider creating a prayer closet for your girl. Setting up a comfortable, dedicated environment might spark her desire to seek God's wisdom. Keep a Bible, lined sticky notes, pens, and a box of tissues in a shower caddy or basket. Throw a cozy blanket, floor pillow, or other comfort-item in to make the space more welcoming.  
With a Biblical Worldview, we can approach our problems as opportunities to see God at work. By capturing her prayers in writing, your girl can look back and see how He hears us when "we ask according to His will" as is written in first John. 
 And remember, faith is usually more caught than taught! Consider setting up your own prayer closet and dedicate time to witness the Spirit moving in your life too. 
1 John 5:14, NIV 
Listen to the Raising Godly Girls Minute with Patti Garibay: