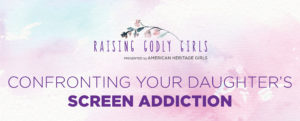 The American Pediatric Association estimates that children in the U.S. spend an average of 7 hours a day on media devices. Time spent in front of TVs, tablets, and smart phones has turned kids into screen addicts.
So often when we hear the word "addict" we picture someone controlled by drugs or alcohol. In reality, the disease of addiction reaches far beyond the grip of these harmful substances. Today's girls are chained to their devices. They feel an urge to check the phone, watch another episode, or reach the next level in a video game.
So how do we intervene? While it may seem extreme, it's important to keep in mind the most basic need for rehabilitation—time. Your daughter's screen addiction won't be eradicated overnight by going cold turkey off-the-grid. Start with limiting her screen time (think one to two hours a day) and spend time with your daughter outdoors—a space free of media distractions… and yes, that includes your phone too!
Listen to the Raising Godly Girls Minute with Patti Garibay: