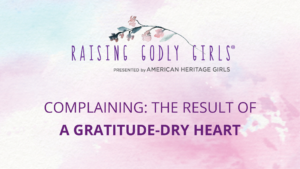 Is your daughter a chronic complainer? Whether she's a whiny kiddo or a griping teenager, as the parent who provides for her, it can be frustrating to hear your daughter complain. It's safe to say that God probably feels the same way too.
The habit of complaining festers in a heart lacking gratitude. Scripture instructs us over and over to give thanks to God for what He has given us. If you find that your daughter's instinct is to complain about what goes wrong rather than celebrate what goes right, address the behavior.
Start in God's word, studying verses of gratitude together. During your evening family time, get in the habit of sharing five specific things for which you are each grateful for from the day. Developing the habit of offering God our thanks for His many blessings can replace the ugly routine of complaining.
Listen to the Raising Godly Girls Minute with Patti Garibay: